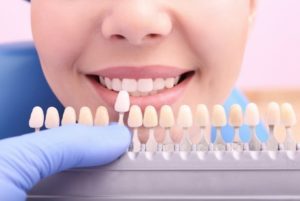 The idea that having bright, white teeth means that you are healthy has been driven into our minds for what seems like forever. However, your teeth can become discolored for many different reasons. Keep reading to find out what the color of your teeth says about you and how you can brighten them.
White Teeth
When your teeth are white, it typically gives the impression that your smile is healthy and that you practice a proper dental care routine. Studies also show that this tooth color can also make you appear younger and increase your attractiveness. However, an impression is not equivalent to a fact. Because you a whitening treatment can change your tooth color, having white teeth does not mean your smile is healthy.
Yellow Teeth
This is the most common color of teeth. A light-yellow color indicates a strong healthy smile. The natural color of your dentin, the layer of tiny tubules that lies beneath your enamel and connects to the dental nerve in each tooth, is yellow. Because enamel is essentially translucent, the color of your dentin is slightly revealed and gives your teeth a yellow tint. However, as you age, the yellow color of your teeth is likely to become darker. Certain foods and drinks can also cause teeth to take on a darker yellow color.
Brown Teeth
If your teeth have a brown tint, it is very likely that you have made a habit of consuming tannin-rich products like wine, black tea, or coffee. Tannins are a group of bitter and astringing compounds that can be found in wood, bark, leaves and fruit that give foods and beverages their dark color. Grapes, oak, cacao, walnuts and rhubarb are all foods that naturally contain tannins and carry staining properties. Brown teeth can also be the result of frequently using nicotine and tobacco products. Brown spotting on your teeth also suggests the buildup of tartar (hardened plaque).
How to Improve Your Dental Appearance
There are many options available to change the color of your teeth. Practicing a proper dental care routine that includes brushing twice a day for two minutes and flossing every day is one way to improve your dental appearance. Another option is to get an in-office or at-home professional whitening treatment from your dentist. This treatment offers the ability to make your smile up to 8 shades whiter and uses stronger, more effective products than you would find in over-the-counter items that promise to whiten your teeth.
Tooth color plays a crucial role in helping you to distinguish healthy teeth from unhealthy teeth. If you notice that your dental appearance is changing in color, it is a good idea to schedule a visit with your dentist so they can evaluate your oral health.
About the Author
At Lifetime Dental, Dr. Shue Her is dedicated to providing his patients with personalized, top-quality dental care. He earned his doctorate from the University of Minnesota School of dentistry and continues to pursue advanced training to expand his clinical skills and techniques. With a career that spans over a decade, Dr. Her offers a wide range of dental treatments including general dentistry, cosmetic dentistry and more. If you'd like to discuss teeth whitening, contact the office at (770) 536-6688 or visit the website to schedule an appointment today.