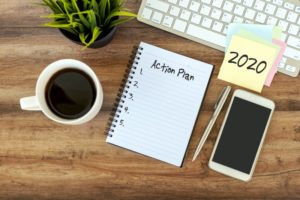 New year's resolutions are all about developing healthier habits that make you a happier person in the long run. For 2020, you'd like to take better care of your overall health, but you're not sure where to start. Many people aren't aware of how much of an impact their oral health has on the rest of their body, which is why they don't know that the best way to start their year is to get a professional teeth cleaning in Gainesville. The rest of your body will thank you when you take great care of your mouth. Read on for four new year's resolutions that you'll be glad you made.
Visiting Your Dentist Every Six Months
It can be easy to put your semi-annual cleaning and dental checkup in Gainesville on the backburner to make room in your schedule for more exciting activities. However, these appointments ensure that your oral health stays in tip-top shape and prevents small issues from progressing down the road. By visiting your dentist every six months in 2020, you'll be able to diagnose the early signs of oral cancer, prevent gum disease from getting worse, and keep cavities from forming. With preventive dental care, you'll be able to spend less time in your dentist's office.
Switching Out Your Toothbrush
Many people don't know that they need to get a new toothbrush after they've been sick or every three months. Frayed and worn bristles can easily trap bacteria and reinfect your mouth, increasing your chances of becoming ill or developing additional oral health problems. Nylon bristles can also become jagged after they've been regularly used, which can also damage your gums and not properly clean your teeth.
Taming Your Sweet Tooth
One of the hardest new year's resolutions you can make for the betterment of your oral health is to vow to reign in your sweet tooth. Sugar can have an addictive effect on your body, making you crave it. Just like it's not great for your overall health, it can also cause problems for your teeth and gums. Harmful oral bacteria feed off of the substance and convert it into acid that can erode your enamel, causing cavities and gum disease. This year, make an effort to substitute sweet snacks for healthier options, like fresh fruits and vegetables.
Maintain a Thorough Dental Hygiene Routine
Without good dental care at home, your risk of developing common oral health problems will increase dramatically. To take care of your teeth and gums, be sure to use tools that are gentle and effective, such as a soft-bristled brush and non-abrasive toothpaste. Also, don't forget to clean your tongue, floss your teeth, and rinse with antibacterial mouthwash every day.
The key to new year's resolutions is making goals that are attainable and great for your wellbeing. When you visit your dentist in Gainesville, be sure to ask them how you can optimize your oral health and keep your smile looking and feeling great in 2020. With the right tools and techniques under your belt, you'll feel better than ever!
About the Author
Dr. Shue Her has been optimizing his patients' oral health in Gainesville for over a decade. He enjoys giving his patients the tools and knowledge they need to help preserve and care for their teeth and gums, so they last for a lifetime. That's why he focuses on thorough and high-quality preventive dental care that solves the small problems before they become more severe. For questions or to schedule a checkup and cleaning, visit Lifetime Dental's website or call 770-536-6688.