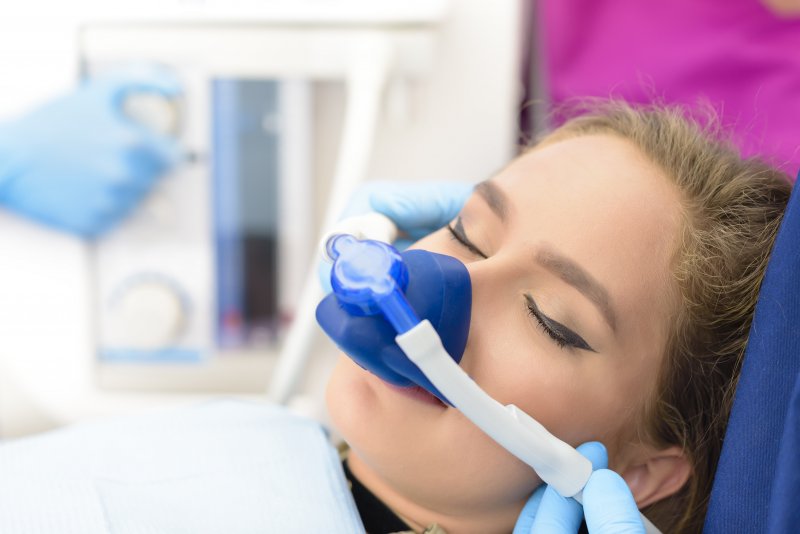 Are you suffering from dental anxiety? You aren't alone. In fact, over 30 million Americans experience stress related to dental visits. The good news is that this doesn't mean you have to avoid dental care. You have several options to help you calm your nerves and get through your appointments with ease. Your sedation dentist in Gainesville gives some suggestions, including more information on sedation methods that can be used in the practice.
What Can I Do to Reduce My Dental Anxiety?
Listen to Music
If the sound of the tools and instruments makes you nervous, ask your dentist if it's okay to use your headphones to listen to music. Not only will it drown out the sounds, but listening to a calming playlist may be able to help you relax.
Focus on Your Breathing
Many people don't notice that when they're nervous, they hold their breath. It may be beneficial for you to practice some breathing exercises in order to calm down. Slow, regular breathing is an effective way to reduce stress.
Get a Step-by-Step Rundown
If you don't know what your dentist is doing, it can provoke additional stress. When you arrive for your appointment, ask your dentist how they plan on treating you and in what sequence. Knowing exactly what you can expect may take some of the stress out of your experience.
Pick the Best Time for You
When scheduling your appointment, choose the day and time accordingly. Visiting the dentist on a day where you are extremely busy with work could trigger additional anxiety. Instead, pick a day when you can reserve more time and not feel rushed.
Talk to Your Dentist
If your dental team doesn't know that you get anxious during your appointment, they won't be able to do anything to help. Let them know what would make you more comfortable and address any concerns you have. They will do everything they can to treat you in a way that makes you feel stress-free.
What Can My Dentist Do to Help?
Your dentist in Gainesville has several techniques for helping to relieve dental anxiety. By using different sedation methods, you can get through your appointment stress-free. Here are some common options:
Nitrous Oxide Sedation
This is a mind form of sedation that many people are familiar with. Patients inhale this gas through a nasal mask. This is often effective at helping patients relax when they are getting treated. The effects are fast-acting so you can come and go without having to worry about side effects.
Oral Conscious Sedation
This is great for patients who suffer from moderate to severe levels of dental anxiety. You will be prescribed a pill that you take orally several hours before your visit. By the time a friend or family member drives you to the office, you will feel incredibly relaxed.
Just because you have dental anxiety doesn't mean you are forced to neglect your oral health. Your dental team is happy to work with you in order to make you feel relaxed and comfortable while you are being treated!
About the Author
Dr. Shue Her earned his doctorate from the University of Minnesota School of Dentistry and has extensively pursued advanced training to expand his skills in the dental field. He is certified in both oral and IV sedation through DOCS and has attended courses through the prestigious Dawson Academy. Dr. Her is happy to help patients overcome their dental anxiety through different methods. If you have any questions, concerns, or want to schedule an appointment, visit his website or call (770) 536-6688.