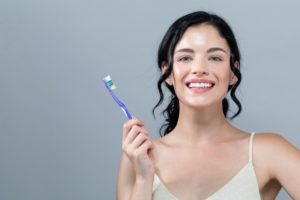 It's common knowledge that brushing your teeth twice a day is essential for great oral health. However, does your morning routine start with dental care or breakfast? When you brush your teeth plays a key role in the efficiency of your brushing and flossing. In fact, brushing your teeth at the wrong time could increase your risk of cavities! Read on as your Gainesville dentist explains why you should brush your teeth before enjoying your first meal of the day.
Clear Away That Fuzzy Feeling
Have you ever noticed that your teeth sometimes feel "mossy" or "fuzzy" in the mornings after you wake up? What you're actually feeling is a layer of plaque and bacteria that have built up on your teeth overnight. Not only is this a somewhat uncomfortable feeling, but it often causes bad breath and an unpleasant taste in the mouth.
These particles produce cavity-causing acid when exposed to the sugars in the foods you eat. Eating breakfast before brushing your teeth fuels all the plaque and bacteria on your teeth and encourages tooth decay. Thankfully, you can easily avoid this simply by brushing your teeth before enjoying your morning meal.
Shield Your Smile for the Day
Not only does brushing your teeth clear away all the debris in your mouth, but it coats your enamel with fluoride. This important mineral seeps into your teeth and helps rebuild their structure. Not only does this strengthen them, but it helps the enamel resist decay. Brushing your teeth with a fluoridated toothpaste will help protect them from the acids and sugars in your breakfast.
Boost Your Saliva Production
Some studies indicate that toothbrushing boosts saliva production. Saliva acts as your body's natural cavity protection. The more saliva you have, the more it can wash over your teeth and prevent harmful particles from accumulating. Additionally, your saliva transports minerals like fluoride and calcium to your teeth as it cleans them. Having a healthy amount of saliva will help break down your morning meal and protect your smile.
Avoid Causing Acid Damage
If you brush your teeth directly after eating, you may be causing them more harm than good! Instead of cleaning acidic particles away, you could be spreading them around your mouth and pressing them into your enamel. If you only have the opportunity to brush your teeth after breakfast, experts recommend waiting at least 30-60 minutes after eating. This should give your saliva enough time to neutralize the acids.
Brushing your teeth every morning is essential to keeping your smile healthy, whenever it fits into your schedule. However, do your best to start each day with a fresh smile and brush your teeth right after you wake up.
About the Author
Dr. Shue Her of Lifetime Dental has been serving the smiles of Gainesville, GA and the surrounding communities for over a decade. He is committed to staying current with all the latest dental techniques and technologies, which is why he has completed additional training in advanced topics such as Full Arch All-On-4 implant restorations, CEREC same-day dental crowns, and sedation dentistry. This allows him to offer his patients the excellent, comfortable, and efficient dental care they deserve. He can be contacted via his website or at (770) 536-6688.