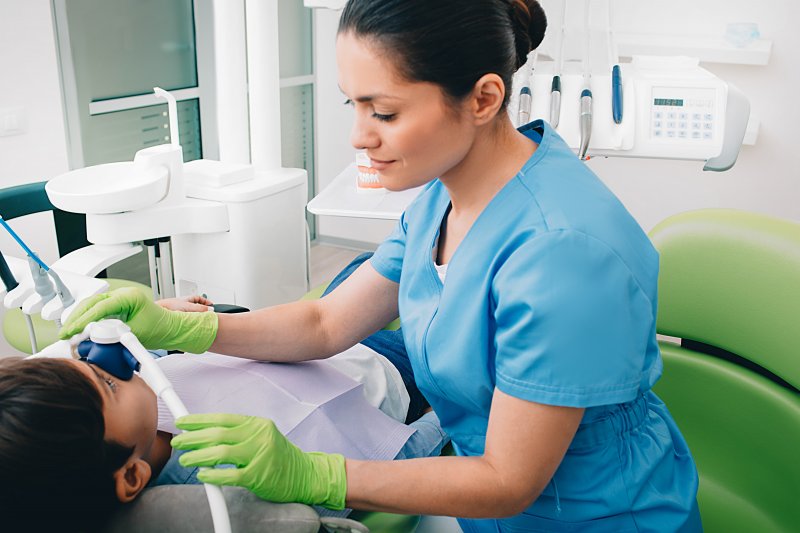 Did you know that an estimated 75% of Americans experience mild to severe dental-related anxiety? Whether it's the sound of the drill, the trauma from a previous bad experience, or the needles, there is a way you can get the dental work you need without the stress: nitrous oxide sedation. And while this effective, colorless gas is highly effective, it's not for everyone. Read on to learn how it works and who is a candidate!
How Nitrous Oxide Sedation Works
To help patients relax in their treatment chair, dentists have a few options when it comes to sedation dentistry, one of which being nitrous oxide. This odorless gas is administered through a comfortable nose piece before your treatment begins. After a few minutes of breathing through your nose, you'll begin to feel your arms and legs get heavy, and you will enter a deep state of relaxation. While this sedative won't put you to sleep, the calming effects often cause patients to doze off. Don't worry though – you'll be easily awakened and able to respond to verbal cues the whole time. Once your treatment is complete, the nitrous will be turned off and just oxygen will flow through your nose piece. In a matter of minutes, the effects dissipate completely!
The Benefits of Nitrous Oxide Sedation
Nitrous oxide is a tried-and-true sedation option that is advantageous to dentists and their patients alike. After all, it comes with a number of benefits, including that it:
Helps keep feelings of anxiety at bay
Can be controlled by the doctor, allowing them to use more or less throughout the visit
Has no lingering side effects, like drowsiness, unlike other sedatives
Allows your dentist to get more dental work done in a single visit
Helps patients who experience neck, back, and jaw pain in the treatment chair
Who Is a Candidate for Nitrous Oxide Sedation?
If you battle with dental-related anxiety, are in need of extensive dental work, or need help relaxing to get through your appointment, then you may be a candidate for nitrous oxide! Not only is it one of the most clinically researched and tested sedatives available, but it can be used for young children up to the elderly. With this being said, your dentist will review your medical history to confirm whether or not it is right for you. Some conditions, like emphysema and pregnancy, can cause complications, in which case your dentist will discuss other options of helping you feel comfortable in the treatment chair.
Nitrous oxide can be life-changing for patients who previously avoided the dentist at all costs. To learn more about this effective sedative, contact your dental team today!
About the Author
Dr. Shue Her earned his dental doctorate at the University of Minnesota School of Dentistry, and he has spent the last decade providing patients with the stress-free, comfortable dental experience they deserve. When he isn't helping patients achieve pristine oral health and beautiful smiles in the office, he is honing his craft even further through advanced training at some of the nation's most prestigious institutes. He even has become certified in oral and IV sedation through DOCS! If you want to learn more about whether nitrous oxide is right for you or are looking for a sedation dentist in Gainesville, don't hesitate to visit his website or give him a call at 770-536-6688.